How to Activate the Macros in EZchef
What's a macro, and what do I need to know to activate them in EZchef software?
Macros are a series of computer coded commands and functions that perform a  specific task or multiple tasks in Excel and other Microsoft applications. In EZchef the macros change worksheet views, sort lists, format data, link values from a one cell to another, make complex calculations based on data in different worksheets, and perform all the other automated procedures that empower EZchef to function like a software program rather than a typical Excel spreadsheet.
Excel macros are created using a computer language called Visual Basic for Applications (VBA), and are intended to improve the functionality and efficiency of the application. But some macros may pose a potential security risk. A person with malicious intent can introduce a destructive macro in a file which can subsequently spread a virus
How to Activate the Macros in EZchef
When you open EZchef for the first time it's likely that you will see one or the other of the screen views below. The first is from Excel 2007 and the second from Excel 2010/2013/2016.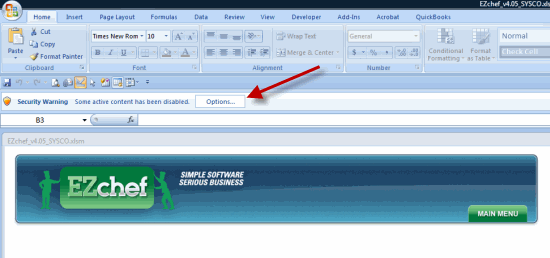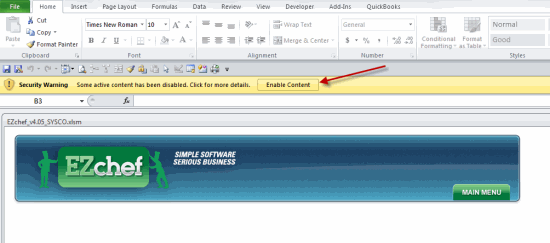 Excel 2007: To activate the macros click the "Options Box" and then click the radio button that reads "Enable this content" as shown below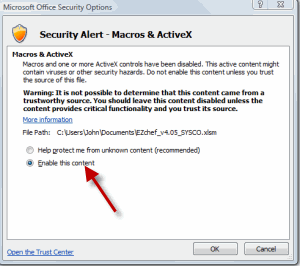 ALERT! If you do not see the "Enable this content" radio button in the screen above, or if you get a message that reads: "Security Alert This file contains encrypted macros that have been disabled because there is no antivirus software installed that can scan them", then (so long as you do have an active antivirus program installed) you will need to download and install the 2007 Microsoft Office Suite Service Pack 2 (SP2).
Excel 2010/2013/2016: To activate the macros simply click the box that reads "Enable content"
Create a Trusted Location to By-Pass the Need for Macro Activation
You will need to repeat the steps above each time you open EZchef unless you follow the instructions below. Using this method will establish a "Trusted Location" which will be a place for you to save your EZchef file(s) so they will open without any need for additional actions to be taken.
Excel 2007:
Open Excel and click the "Office Button" in the upper left corner of the screen.
Select the "Excel Options" box at the bottom of the window.
Select "Trust Center" from the left  window pane and then "Trust Center Settings" as shown below.
From the "Trust Center" window select "Trusted Locations" from the left pane and then "Add new location" as shown below.
From the "Trusted Location" window below select the "Browse…" box, and create a path to the location where you will be saving your EZchef files (e.g. Desktop). Check the "Subfolders of this location are also trusted" box as well. Now click OK and close Excel.
From this point forward you will save your EZChef files to the "Desktop" (or a folder on the Desktop), and it will open, with macros fully activated, without additional steps needing to be taken.
How to Activate Macros in Excel 2010/2013/2016
To create a Trusted Location in Excel 2010, or later versions, select the "File" tab from the Excel Main Menu as shown below.
Select the "Options" box from the list.
Now repeat steps #3 through #5 as shown above for Excel 2007.