Menu Costing is EZchef's core function!  EZchef makes it simple to create all your restaurant's fully costed menu items and sub recipes, and automatically updates those costs as your inventory prices change!
Provides 100 Menu Costing Templates in each of 10 user defined categories (e.g. Appetizers, Salads, and Entrees)
Includes an additional 400 Sub-Recipe templates to be used as direct inputs for your menu items. The use of sub-recipes greatly reduces the time it takes to cost your menu!
Links your Food and Beverage inventory items, and their current recipe unit costs, into each Menu Item and Sub-Recipe template
Permits the manual entry of inventory items and unit costs to save time or for those items that do not have a significant impact on the items cost
Auto calculates each menu items portion cost, cost of goods sold, and gross margin based on the items selling price
Provides ample space to document the preparation of each menu item and sub-recipe
Allows you to insert a photograph of each "plated" Menu Item in either JPG, GIF or PNG file format
Prints each Menu Item and Sub-Recipe, with all documentation, on a single formatted page
To add a new Menu Item simply click on the "Add Menu Item & Sub Recipes" window, and select the item's category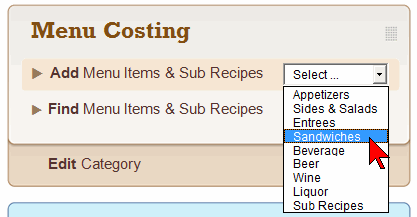 Use the "Recipe Search Form" to locate or edit existing Menu Items and Sub Recipes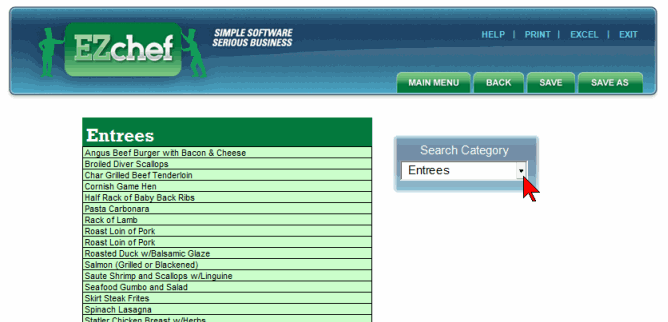 Sample screen view of a completed Menu Item template that includes both "linked" Inventory items and manual or "unlinked" items. The price of linked items will automatically update any time the purchase price is changed from the Inventory section of the program. The price of manually entered items will not change unless manually edited in the template.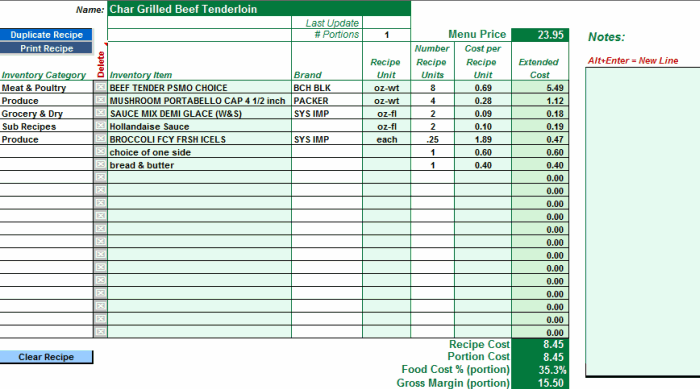 Auto-link ingredients from the Inventory section using the "drop down" window under the "Inventory Category" column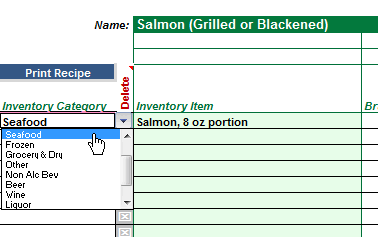 Then move to the corresponding row under the "Inventory Item" column. When you select the drop down window in that cell you will view a list of all inventory items in the category. EZchef will automatically input your previously selected Recipe Unit and it's current Recipe Unit Cost as shown below. All you need to do is input the Number of Units called for in the Recipe and the program will do the rest…