EZchef Restaurant Inventory Software makes management tasks easy. Manages all your Inventory details on a single page view, simplifies period ending Inventory counting by product Category or Location, and prints your Vendor Order Guides for efficient ordering…
Simple data entry screens allow your restaurant inventory to be either manually entered or easily copied from another Excel sheet using our custom Transfer Template. Customers of our supported foodservice distributor versions can "Import" their inventory items directly from an order guide supplied by the distributor
Provides twelve inventory categories (e.g. Produce, Meat & Poultry, Dairy) to suit your specific needs and menu
Includes a simple "Conversion Tool" to convert each Vendors As Purchased Unit to the Recipe Unit, the way you will link each item in your Menu and Sub Recipe templates.
Permits easy to perform Inventory Counting and Valuation (either by product Category or Location) by providing printed inventory sheets, a simple data entry procedure, automatic price extensions and category totals, and a summary page printout. Includes an option to order your items in "shelf-to-sheet" order. You can even export the data to a new Excel workbook.
Prints a weekly Order Guide for each vendor (or for all vendors combined) that accommodates up to six orders, and includes columns for user defined Par levels and current On-Hand amounts to assist in ordering only what you need!

Use the Main Menu "drop down" windows to perform basic inventory tasks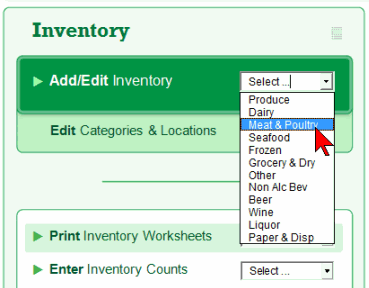 Partial view of an inventory management worksheet showing navigation & task buttons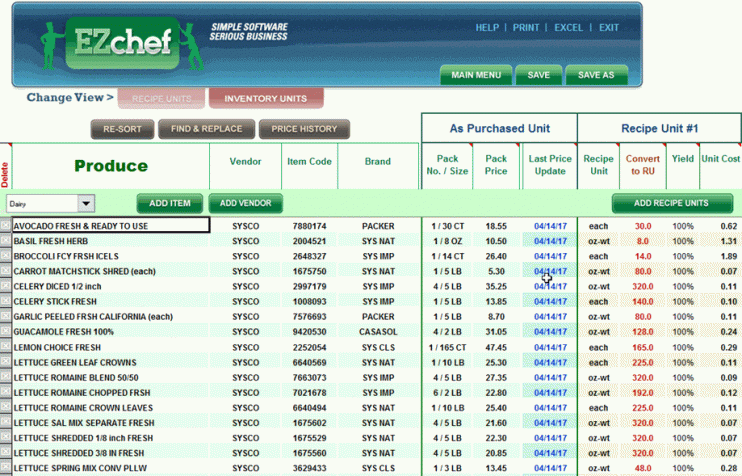 Use the Conversion Tool to convert vendor's "As Purchased Unit" to the "Recipe Unit" or "Count Unit" you select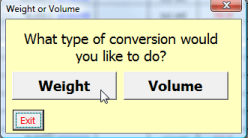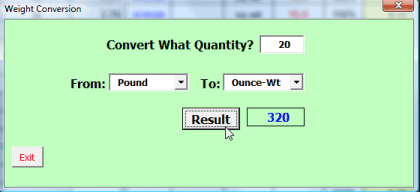 Print your current Inventory Sheets by product Category or Location to take your month end or period end inventory counts. Order your products in "shelf-to-sheet" order to making counting a breeze!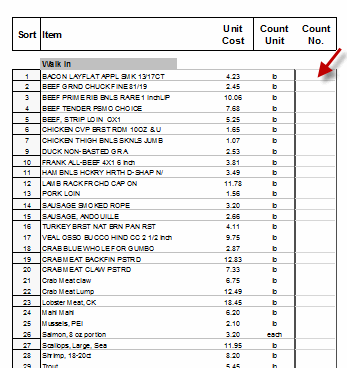 Enter the Inventory Counts and then Print or Export the results to a new Excel file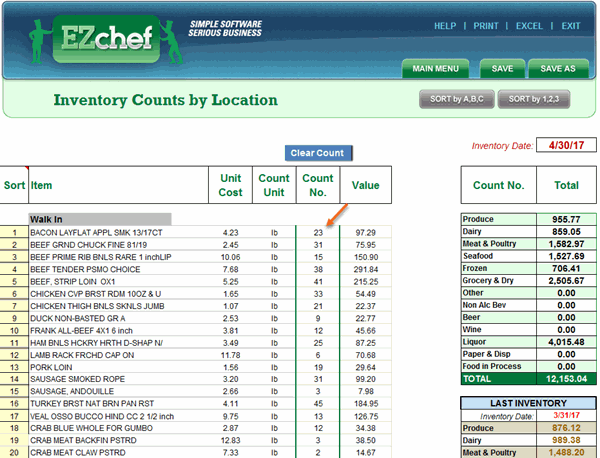 View, Print or Save to Excel the Inventory Summary after all items are entered as displayed above. Use this information to make "Journal Entry Adjustments" in your accounting system to produce accurate Financial Statements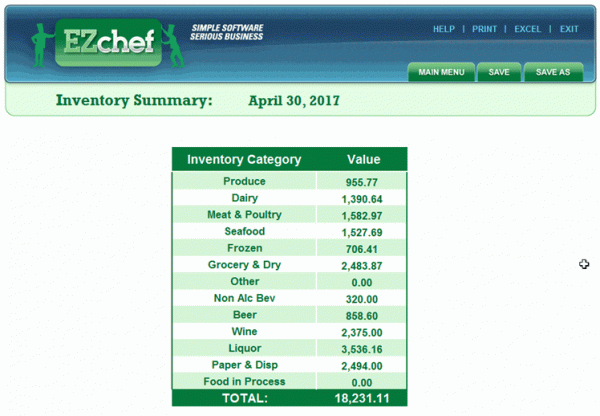 Print Vendor Order Guides (alphabetically by Item, by Category or by Primary Location) weekly, with current prices for each food and beverage supplier